Fantastic Beasts: The Crimes of Grindelwald - Het magische archief
Publicatiedatum: 16/11/2018
Prijs: €45.00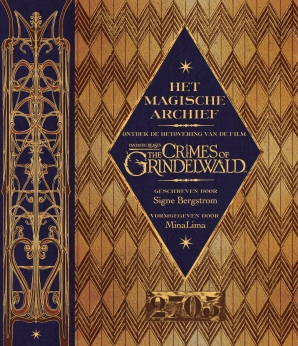 Fantastic Beasts: The Crimes of Grindelwald - Het magische archief
Publicatiedatum: 16/11/2018
Formaat:
Prijs: €45.00
Over het boek
Fantastic Beasts: The Crimes of Grindelwald is genomineerd voor de British Academy Film Awards 2019 voor 'Best Production Design' en 'Best Special Visual Effects.
Newt, Tina, Queenie en Jacob, de innemende helden van 'Fantastic Beasts and Where to Find Them', zijn terug! In dit tweede avontuur krijgen ze gezelschap van geliefde figuren uit het Harry Potter-universum, zoals Albus Perkamentus en Nicolaas Flamel, maar ook van Gellert Grindelwald, een van de machtigste kwaadaardige tovenaars. Je leeft mee met Newt Scamander en zijn bonte schare vrienden – fabeldieren en tovenaars – in hun strijd tegen de duistere krachten van Grindelwald, een avontuur dat hen van New York City naar Londen en Parijs voert.

'Het magische archief' is een rijkgevulde schatkamer, ontworpen door MinaLima, het creatieve brein achter de vormgeving en veel van de rekwisieten in 'Fantastic Beasts and Where to Find Them' en de Harry Potter-films. Dit prachtige boek, bomvol geheimen van de makers, full colour artwork en verhalen van acteurs en crewleden, kreeg zijn vorm op basis van een speciaal voorwerp uit de film. Het bevat tien uitneembare facsimile-reproducties van rekwisieten en andere materialen uit de film en nog veel meer bijzondere extra's. Het magische archief is een eerbetoon aan de magie van film, en een boek waaraan zowel fans van Harry Potter en 'Fantastic Beasts' als filmfanaten, concept artists en designers in de dop hun hart zullen ophalen.
Productspecificaties
ISBN:

9789402702187

Publicatiedatum:

16/11/2018

Prijs:

€45.00
Inkijkexemplaar